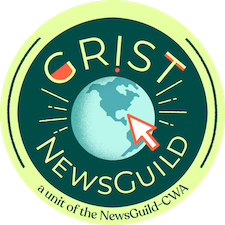 FOR IMMEDIATE RELEASE: February 9, 2022
CONTACT: Katie Gillespie, (206) 669-3562, guild37082@gmail.com


Grist Union seeks voluntary recognition from management
SEATTLE, Wash. — Journalists, editors, and business and audience staff at Grist announced today that they are unionizing with the Pacific Northwest Newspaper Guild, the Seattle-based local of The NewsGuild-Communication Workers of America. Grist is a nonprofit independent media organization dedicated to telling stories about climate solutions and environmental justice.
In recent years, the organization has made enormous strides in terms of culture, compensation, benefits, and diversity and inclusion. We are excited to take a seat at the table to protect these important gains and continue to build Grist into a stronger and more equitable organization, staffers said in a mission statement sent to company management Wednesday morning.
The proposed bargaining unit includes about 40 members, including journalists, designers, editors, business development professionals, and audience engagement staff.
Senior staff at the organization, including outgoing CEO Brady Piñero Walkinshaw and interim CEO Nikhil Swaminathan, have publicly indicated they would support workers if they chose to unionize.
Listening and sharing power with workers is integral to maintaining a strong news organization, said Gabe Schneider, who handles external partnerships for the organization. Grist can cement its place as an example in public media by recognizing our union.
Grist joins a significant wave of newly unionized news publications, as thousands of workers in the industry have announced their organizing efforts in recent years. More than 2,000 workers organized with the NewsGuild-CWA in 2021—a record for the union.
Workers at Grist say the organization has already made promising investments in its workers, including improvements in pay equity and additional paid leave granted in December. In its mission statement, workers called for a greater voice in those decisions.
All Grist employees deserve a seat at the table in ensuring we have strong workplace protections and benefits, said Clayton Aldern, a senior data reporter and organizer at Grist. We're eager to work with the company to secure a contract that honors the formidable work of covering the climate crisis.
Workers at Grist are available for comment at grist.union@gmail.com. More information can be found at https://gristunion.com.
About The NewsGuild-CWA
The NewsGuild's members include journalists, employees at publishing houses, and the staff of nonprofit organizations. The NewsGuild is a sector of the Communications Workers of America (CWA), which represents workers in telecommunications and information technology, the airline industry, health care, public service and education, manufacturing, and other fields. The Pacific Northwest Newspaper Guild, TNG-CWA #37082, represents about 250 workers at news organizations including The Seattle Times, Crosscut, Idaho Statesman, Tacoma News Tribune and more.
###