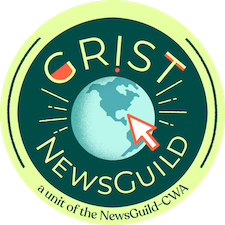 FOR IMMEDIATE RELEASE: August 16, 2023
CONTACT: Katie Gillespie, (206) 669-3562, guild37082@gmail.com


Grist Union and Pacific Northwest Newspaper Guild ratify first contract with Grist
SEATTLE, Wash. — Employees at Grist on Tuesday ratified the organization's first collective bargaining agreement. The staff union was voluntarily recognized by Grist last February and is represented by the Pacific Northwest Newspaper Guild, the Seattle-based local of The NewsGuild-Communication Workers of America. Grist is a nonprofit independent media organization dedicated to telling stories about climate solutions and a just future.
The bargaining unit consists of 37 editorial, engagement, and audience employees that span the organization. The union reached agreement after bargaining over the contract for approximately 14 months. The contract was ratified with 97.3 percent of members voting yes.
This contract represents a huge step forward for Grist and its workers, said Clayton Aldern, senior data reporter and union chair. We're proud of the benefits and protections we're enshrining, and we're excited to ratify and implement this agreement.
Highlights of the new contract include expanded leave policies (including medical leave, parental, and elder care) to 17 weeks paid, as well as unpaid time up to 22 weeks. The contract also adds more vacation days for all staffers, four new holidays, and paid sabbaticals.
The bargaining agreement secures significant boosts to wage floors for each position. Unit-wide, no member at Grist will make less than $55,000. The contract also enshrines progressive annual raises; that is, the highest-percentage increases are extended to employees at the lowest salary levels.
The contract offers additional pay for employees who serve on Grist's Diversity, Equity, Inclusion, and Justice Committee and/or who contribute additional skills like translation or copyediting to the organization.
The protections cemented in this contract will enormously benefit Grist's workers and workplace culture, said Naveena Sadasivam, senior staff writer and mobilizing committee member. We think the agreement will make for both a better workforce and for sustainable organizational longevity.
Workers at Grist say the organization has already invested heavily in staff in recent years, including in pay equity and diversity and inclusion efforts. In a mission statement released last year, staff called for greater agency in determining benefits and working conditions like these. The contract delivers on this mission.
This is a pivotal moment in the history of Grist, and I'm so pleased we've come to a mutually acceptable agreement, said Grist CEO Nikhil Swaminathan in an email to staff upon reaching a tentative agreement last month. I'm satisfied that where we've landed cements Grist as a destination newsroom that is guided by a respect for its staffers and is dedicated to walking the path — briskly whenever possible — of diversity, equity, inclusion, and justice.
Last year, Grist Union joined a roster of newly recognized media unions. In 2021, the NewsGuild broke its organizing record, with 1,542 journalists from 26 workplaces joining up. When including non-media workplaces, the NewsGuild organized more than 2,000 workers that year.
About The NewsGuild-CWA
The NewsGuild's members include journalists, employees at publishing houses, and the staff of nonprofit organizations. The NewsGuild is a sector of the Communications Workers of America (CWA), which represents workers in telecommunications and information technology, the airline industry, health care, public service and education, manufacturing, and other fields. The Pacific Northwest Newspaper Guild, TNG-CWA #37082, represents about 250 workers at news organizations including The Seattle Times, Crosscut, Idaho Statesman, Tacoma News Tribune and more.
###